Details
Heart Health Essential Omega III is a superior product due to a number of factors. The best fish are used to produce a clean and safe product that is rich in eicosapentaenoic acid (EPA) and docosahexaenoic acid (DHA). Heart Health Essential Omega III comes from small fish where other competitive products use large fish which are more likely to accumulate toxins. Heart Health Essential Omega III provides a high quality, high purity product with significant percentages of the health promoting EPA and DHA.
The fish oil in Heart Health Essential Omega III comes from sardines,anchovies and mackerel harvested off the western coasts of South America & Africa. Not only do anchovies, sardines and mackerel have a high omega III content, they also have high percentages of eicosapentaenoic acid (EPA) and docosahexaenoic acid (DHA). Small fish have a short lifecycle making them an ideal source of fish oil because they are less prone to accumulating environmental toxins that can be found in larger, longer-lived fish. Contaminants are generally extremely low in sardines, anchovies, and mackerel even before they go through an intense purification process. Every batch of bulk fish oil is tested prior to processing and must pass quality checks during the production process.
Another great reason Heart Health Essential Omega III is a superior product is that it contains Triglyceride concentrated fish oil rich in Omega-3 fatty acids. Not all fish oils are created equal and there are several important factors to consider when choosing a fish oil: purity, freshness, potency, nutrients, bioavailability, sustainability, and cost. The potency of various products depends not only upon the levels of EPA and DHA, but also upon the molecular structure of the fats in the oil, which in turn affects absorption. Molecular structure matters in terms of absorption, and Triglyceride forms are the closest to eating fish oil in its natural form, and is highly bioavailable.
Recent research has shown that that fish oil may be beneficial in supporting cognitive function by helping the body manage stress and enhance mood. It may also promote a healthy complexion. In an article published in The American Journal of Clinical Nutrition, the effects of Omega-3 Fish oil supplementation was shown to be beneficial for healthy cognitive and cardiac functioning. The study shows that supplementing with fish oil daily can rapidly raise the levels of EPA and DHA in cardiac tissue. This is important because both EPA and DHA have been proven to help maintain normal plasma triglycerides. In addition, DHA has been shown to help maintain blood pressure and blood viscosity. This study also showed an inverse relationship between EPA/DHA and arachidonic acid (AA), an omega-6 fatty acid. As EPA and DHA increased in atrial (heart tissue) phospholipids, AA decreased.
Heart Health Essential Omega III provides the three grams of EPA (eicosapentaenoic acid) and DHA (docosahexaenoic acid) that studies reveal is the most effective amount to promote overall cardiovascular health. Fish oils have been clinically demonstrated to provide a host of benefits that successfully promote cardiovascular health. Essential Omega III Fish Oil helps maintain normal triglycerides and blood pressure levels in healthy individuals.
An unhealthy diet of processed, high-calorie, high-fat foods, pollution, smoking and sedentary lifestyles all contribute to poor heart health. Not smoking, maintaining a healthy weight, eating a diet rich in fruits, vegetables and whole grains, exercising regularly and taking the right supplements can all contribute to promoting good cardiovascular health. Clinical trials have shown that supplementing with omega-3 fatty acids (found in fish oil) may help to maintain normal levels of triglycerides support healthy blood pressure.
Benefits
Each Softgel Contains:


Concentrated omega-3 triglycerides-fish 1500mg (1.5g)


o Equiv. omega-3 marine triglycerides 900mg
o Equiv. Eicosapentaenoic acid (EPA) 450mg
o Equiv. Docosahexaenoic acid (DHA) 300mg


A concentrated fish oil: Each daily serving provides 3000 mg of fish oil to supply 900 mg of EPA and 600 mg of DHA


Helps maintain cardiovascular health


May help to support normal blood pressure in healthy individuals


May assist in the maintenance of triglycerides within the normal range in healthy individuals


Omega-3 is important for the integrity of cell membranes


Omega-3 provides nutritional support for the maintenance of normal health, brain and cognitive function especially in older adults


Temporary relief of arthritic pain./or Temporary relief of the pain of arthritis.*


May help reduce joint inflammation and swelling associated with arthritis


May help increase joint mobility associated with arthritis


Contains Triglyceride concentrated fish oil rich in Omega-3 fatty acids and derived from species of small fish which are less likely to accumulate toxins


Ideal for those who do not eat as much oily/fatty fish


Product is Gluten Free and Non-GMO


No artificial colours, flavours or preservatives added


*If symptoms persist consult your healthcare practitioner
Ingredients
Omega 3 Fatty Acids (triglyceride form)
Fish oils are rich sources of omega-3 long-chain polyunsaturated fatty acids. EPA (eicosapentaenoic acid) and DHA (docosahexanenoic acid) are the two most studied fish oils. DHA is a necessary component of the phospholipids in human cellular membranes, especially those found in the brain and retina. Clinical studies have shown omega-3 fatty acids to help maintain healthy triglyceride levels. Fish oils are also important in the maintenance of normal blood flow and blood pressure.
EPA and DHA help maintain normal triglyceride levels by promoting normal lipogenesis and supporting normal fatty acid oxidation in the liver. EPA and DHA promote the normal transportation of the regulatory enzymes of fatty acid oxidation. Activating PPAR (peroxisome proliferator-activated receptor) - alpha, helps to support normal fatty acid oxidation.
Omega-3 fatty acids compete metabolically with omega-6 fatty acids, found in higher amounts in typical western diets. Omega-6 fatty acids may inhibit the incorporation of omega-3 fatty acids into tissue lipids. Omega-3 fatty acids may inhibit the conversion of many omega-6 fatty acids into arachidonic acid. Consumption of omega-3 fatty acids DHA and EPA, a corresponding increase of these fatty acids appears to occur in cell membranes and circulatory lipids along with a simultaneous reduction in omega-6 fatty acids.
FAQ
What exactly is cardiovascular health?
The term cardiovascular health (also referred to as heart health) is used to describe a cardiovascular system that is strong and in good physical condition. By leading a more healthful lifestyle and through proper supplementation, you can significantly increase your chances of maintaining good cardiovascular health.

What ca n I do to maintain heart health?
There are simple, everyday things you can do to help maintain proper heart health. Among these are:


Not smoking


Maintaining a healthy height-to-weight ratio


Eating a diet rich in fruits, vegetable and whole grains


Limiting the consumption of total and saturated fat


Exercising regularly


Working with your physician to monitor cholesterol, blood pressure, homocysteine and C-reactive protein levels


Starting a complete nutritional supplementation program designed to help maintain proper cardiovascular health


Is the fish oil tested for heavy metals?
Yes. The fish oil is tested for arsenic, cadmium, lead and mercury. In addition, the fish oil is tested for microbiological contamination, pesticides, PCB's, dioxins and benzo(a)pyrene.
Is this product vegetarian?
No. This product contains gelatin and fish oils.
Science


Bonaa, KH, et al, Effect of eicosapentaenoic and docosahexaenoic acids on blood pressure in hypertension. A population-based intervention trial from the Tromso study. N Engl J Med 322(12):795-801 (1990)


Chan JK, et al, Dietary alpha-linolenic acid is as effective as oleic acid and linoleic acid in lowering blood cholesterol in normolipidemic men. Am J Clin Nutr 53(5):1230-1234 (1991)


Garrido A, et al, Ingestion of high doses of fish oil increases the susceptibility of cellular membranes to the induction of oxidative stress. Lipids 24(9):833-835 (1989)


Harris WS, et al, Dietary omega-3 fatty acids prevent carbohydrate-induced hypertriglyceridemia. Metabolism 33(11):1016-1019 (1984)


Howe PR. Dietary fats and hypertension. Focus on fish oil. Ann NY Acad Sci 827:339-352 (1997)


Knapp HR, FitzGerald GA. The antihypertensive effects of fish oil. A controlled study of polyunsaturated fatty acid supplements in essential hypertension. J Engl J Med 320(16):1037-1043 (1989)


Kris-Etherton PM, et al, fish consumption, fish oil, omega-3 fatty acids, and cardiovascular disease. Arterioscler Thromb Vasc Biol 23(2):e20-e30 (2003)


Madsen T, Skou HA, et al, C-reactive protein, dietaryn-3 fatty acids, and the extent of coronary artery disease. Am J Cardiol 88:1139-42 (2001)


Morris MC, et al, The effect of fish oil on blood pressure in mild hypertensive subjects: a randomized crossover trial. Am J Clin Nutr 57(1):59-64 (1993)


Morris, MC, Sacks F, Rosner B. Does fish oil lower blood pressure? A meta-analysis of controlled trials. Circulation 88(2):523-533 (19930


Nestel PJ. Fish oil attenuates the cholesterol induced rise in lipoprotein cholesterol. Am J Clin Nutr 43(5):752-757 (1986)


Rigelsky, JM, et al, Hawthorn: pharmacology and therapeutic uses. Am J Health Syst Pharm 59:417-22 (2002)


Tsai PJ, Lu SC. Fish oil lowers plasma lipid concentrations and increases the susceptibility of low density lipoprotein to oxidative modification in healthy men. J Formos Med Assoc 96(9):718-726 (1997)


Compare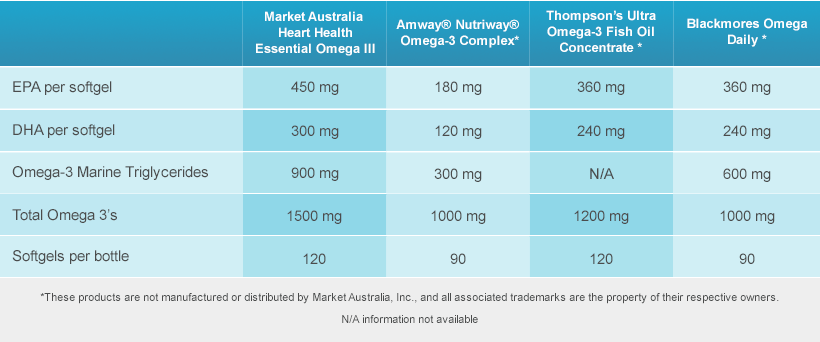 Opinions/Reviews
Love the product BUT hate how this is shipped!
by RenaeH
on 07/19/2016
We live in AZ where it is HOT. I've repeatedly asked customer service NOT to ship this to us USPS, as it arrives in one HUGE glob. It MUST be delivered to the door or the product will be melted. Once again I received the shipment completely melted - useless. I love this product but we are ready to go with another source due to the unwillingness for a change in shipping in our cir####stance.
Going
by EUFEMIAD
Shop Consultant
on 04/10/2016
In my Family we all like this products because enhanced our daily routine of lifting weights, jump, run, sit, and sleep...
i hope this product will be more help full
by Anonymous
on 02/21/2016
Can somebody help me what to take: I am loosing my hair. I am taking OPC -MVI, Beautty blend, fish oil, biotin, folic acid. but so far no luck.
Mental performance
by Anonymous
on 12/29/2015
After I have This Heart Health Essential Omega III, my mind focus better at work, my work quality has increased. Stress would not take hold of me as much as before. Due to its calming state of mind, it helps build a better team work and working relationship. Also I get more out of my reading and learning.
You don't put average oil in your car...!
by BarbaraM
Shop Consultant
on 12/19/2015
If you have a heart--or a brain--a high quality fish oil is non-negotiable, even the AMA says so! Looking at so many claims out there and reading the fine print, there is a lot of scary stuff with fish oils. Being able to find one with good science, the right dosage and ratios of ingredients, from the right fish, that does not "burp up" (!) made this my number one for me and all my family. Love that there is a liquid for kids that tastes great!