Product Information
Product Information
Isotonix® Acai Advanced Energy and Antioxidant Formula
Isotonix Açai, an isotonic-capable acai berry product, works to increase energy, support immune functions, promote cognitive health and support weight control. Isotonix Açai will help the body stay energized and active while providing a super antioxidant formula.
It is this antioxidant formula that sets Isotonix Acai apart from most every acai berry product on the market. The quality of a supplement's antioxidant formula is important. Antioxidants are natural cell protectors, neutralizing highly unstable free radicals that, gone unchecked, can cause oxidation in the body. Normally the body is able to protect itself from the effects of these free radicals, but if antioxidants are unavailable, or if free radical production becomes excessive - through environmental factors, lifestyle choices or otherwise - an extra boost of antioxidants can help.
The star ingredient in Isotonix Acai antioxidant formula is the açai berry, which research shows contains some of the highest levels of antioxidants of all super fruits - up to 33 times the antioxidant properties as red wine grapes. It helps make up our unique, proprietary antioxidant blend, which also includes guarana, yerba mate, mangosteen, pomegranate, green tea and amino acids. This super antioxidant formula is delivered to your body rapidly thanks to the Isotonix Delivery System.
All Isotonix nutritional supplements are delivered in an isotonic solution, meaning the body has less work to do to absorb vital nutrients. With Isotonix nutritional supplements, little nutritive value is lost and maximum absorption occurs, which delivers maximum results to your body.
*These statements have not been evaluated by the Food and Drug Administration. This product(s) is not intended to diagnose, treat, cure or prevent any disease.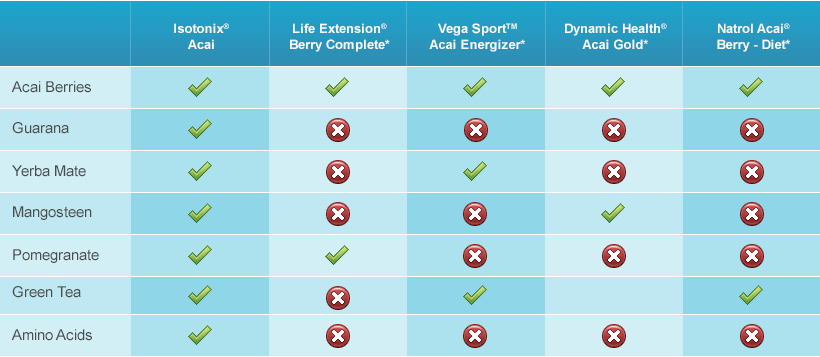 "Love the energy this gives me"
by RhondaM
Shop Consultant
on08/19/2014
So much I like about this product. Great taste, gives you energy, mental clarity and so much more.
by DavidS
Shop Consultant
on08/12/2008
I take acai every morning! It brings me right up to running speed in about 5 min, but it has no crash off the back so I don't have to worry about it running out. Its all-natural and contains a mixture of exotic fruits to enhance focus and energy. Its also helps muscles repair quickly and since it is meant to be taken on an empty stomach, it can easily be taken before or after a workout. I would highly recommend this product for anyone who really wants to improve their health, energy, and their strength and endurance!!Plus it tastes great!!
You may also like: