Product Information
PetHealth™ Ear Wash
Cleaning your dog's ears is more important than you may think. Because dogs have a long, narrow ear canal, dirt, debris and even water can become easily trapped inside. This can lead to odor, itching or even ear infection. Keeping your dog's ears clean with a dog ear wash such as PetHealth Ear Wash is beneficial to your dog's overall health and well-being. This dog ear cleaner helps to clean, deodorize, acidify and dry the ear canal without the use of sulfates, phosphates, alcohol, parabens or preservatives. Your dog's sensitive ears need a sensitive dog ear wash solution. PetHealth Ear Wash uses plant-based ingredients to clean your dog's ears, soften and remove ear wax and soothe minor irritations without exposing your dog to harsh chemicals found in other ear cleaners for dogs. PetHealth Ear Wash contains aloe to soothe the skin and Aroma, which is a new alternative to chemical preservatives. Use this ear wash to maintain your dog's ear hygiene without using irritating ingredients.
Benefits
Cleans, dries and soothes minor skin irritations
Contains aloe for its skin soothing properties
Removes minerals and inorganic chemicals
Helpful in softening and removing ear wax
Sulfate free
Phosphate free
Alcohol free
Preservative free
Paraben free
Compare
Over time, a dog or cat's ear canal can become dirty with dirt, wax and debris. It is important to routinely clean your pet's ears to help with their hearing and to help prevent infections. Most pet ear washes on the market will only clean the ear. PetHealth Ear Wash with soothing aloe is specially formulated with plant-based ingredients to clean, dry and sooth the ear canal. The plant-based ingredients help to condition and moisturize without depleting the skin's natural lipid barrier. PetHealth Ear Wash is also sulfate free, phosphate free, alcohol free, preservative free and paraben free. You can rest assure with PetHealth Ear Wash – Only the best for your pet!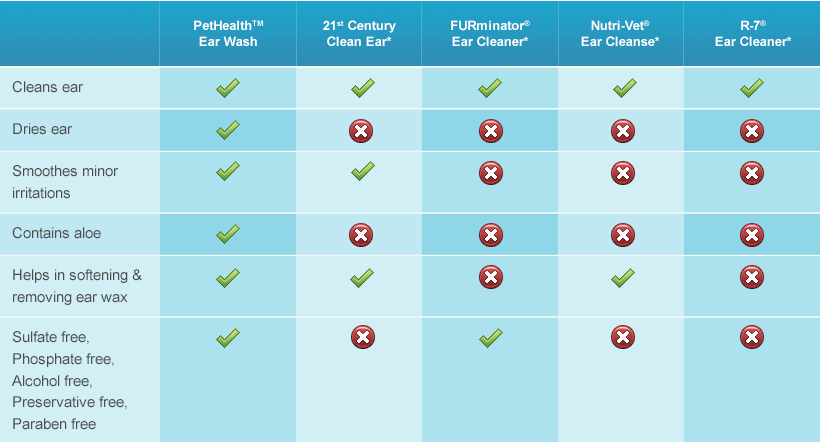 Ingredients
Water (Aqua), Aloe Barbadensis Leaf Extract, Glycerin, Decyl Glucoside, Cocamidopropyl Betaine, Lanolin, Polysorbate 80, Aroma

Opinions/Reviews
by suej
on 04/20/2012
My dog is a swimmer. She loves to fetch anything in our river, diving under water at times. Our Vet recommends we clean out her ears after every swim. This product is especially made for just that. It's easy to administer with a drop or two on a Q-tip or tissue.
by PamelaG
on 02/23/2012
When I recieved my Pet Health (Ear Wash)for my chihuahua, Kamalii. he started scratching his ear like "crazy". I treated kamalii,with the ear wash product as instructed. And he now respond to hear me much better. kamalii, started to spin around in circles as if to say "very relieved". Thank You(MA)I'am too,relieved!!!!!
by CatM
on 05/29/2011
My cat had a wound in his left ear for over a month, he kept scratching it with foot so it wouldn't heal properly,he had dried blood and dirt all inside the ear. I was about to take him to the vet to put on the 'cone of shame' already. Then I got this earwash. I put it on Q-tip first and grab the cat, clean it gently. I do it every two days or whenever I saw the ear is very dirty again. Two wks later his ear was all healed and clean as the other. I'm very happy for the result! The cat hated the smell though,but the smell to me is quite soothing!
by QuirinoC
on 05/16/2010
This is so convenient to administer and so gentle and i love the smell bec. it is so mild and is highly recommended to dog lovers. I usually use this after bathing the dogs .
by DiXinD
Shop Consultant
on 01/22/2009
My dog always rolling on the floor before because her ears were very itching. Although she looks cute while rolling on the floor, but don't want her to suffer for that. After using that, she never do that anymore. It works. So happy that she doesn't have to suffer for that anymore. STRONGLY RECOMMEND!