Product Information
Product Information
PetHealth™ OPC Formula with Glucosamine for Dogs & Cats
PetHealth OPC is a food supplement made from a combination of bilberry, grape seed, red wine, pine bark extracts, citrus extract bioflavonoids, and glucosamine, designed to promote healthy joints and provide a strong antioxidant defense. Oligomeric proanthocyanidins (OPCs) are bioflavonoids (complex organic plant compounds) found in fruits, vegetables and certain tree barks that provide exceptional nutritional benefits to your pet's body. Studies have shown OPCs to be more powerful than vitamin C and vitamin E in neutralizing free radicals. PetHealth OPC Formula with Glucosamine offers a unique, great-tasting powder that is sprinkled over your pet's regular food. It represents the latest technology available today in naturally based pet food supplements. PetHealth OPC Formula is available in a tasty beef flavor that your pets will love – and you'll love knowing that you're doing all you can to help your pets stay health and love long, healthy lives.

Pets face many of the same issues as humans. Many pet foods are over processed and have little nutritive value. Dogs and cats breathe in the same pollution as we do, inhaling free radicals. Powerful antioxidants like OPCs help to strengthen your pet's free radical defenses. Antioxidants promote cardiovascular health, support healthy visual acuity, promote healthy blood vessel dilation and promote healthy platelet activity.

Your Pets and Joint Health
As pets become older, antioxidants become even more important in the fight against free radicals and their associated effects on cells in joints and other tissues. All animals need joint support as they age. Many factors can affect joint health and the integrity of cartilage, including diet, genetic make-up and activity levels. The cold wintery months can also contribute to a decline in joint comfort. Each animal's genetic code, for example, can influence the thickness and durability of its cartilage and its overall joint health. Proper nutrition, especially antioxidant supplementation, is critical in maintaining healthy joints. Glucosamine has been shown to promote the retention and normal regeneration of cartilage, support normal movement and flexibility of joints and promote joint comfort.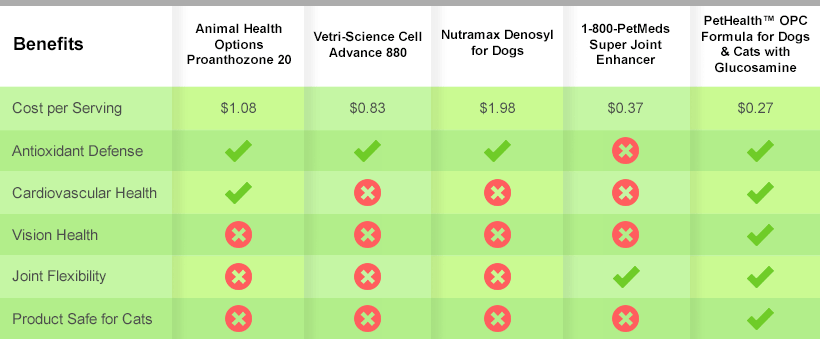 Easy to use (95)
Effective (83)
Gentle (55)
Good value (44)
No side effects (39)
Daily care (91)
Older pets (72)
Larger pets (27)
Younger pets (23)
Smaller pets (22)
Reviewer Profile:
Long-time pet owner (97), New pet owner (6)
Reviewed by 126 customers
Better Than Buying Local
Cheap Shipping
Good Value
Great price
Great Product
Comments about Pet Health™ PetHealth™ OPC Formula with Glucosamine for Dogs & Cats:
Great product...better to take care of your pet when they are young and avoid the costs of ailments and sickness when they are older. Great price and delivery at SHOP.COM, better than buying at local pet shop.
Comments about Pet Health™ PetHealth™ OPC Formula with Glucosamine for Dogs & Cats:
my dog has energy like she did 10 yrs ago.
Comments about Pet Health™ PetHealth™ OPC Formula with Glucosamine for Dogs & Cats:
We have been giving OPC to our German Shepard mix for a few years now and he's 17 years old! He still loves to run on the beach and can still climb onto his favorite couch. His quality of life - and perhaps his longevity - is due to his ability to keep moving. Thanks, PetHealth OPC!
Easy To Mix In Food
Good Value
Comments about Pet Health™ PetHealth™ OPC Formula with Glucosamine for Dogs & Cats:
My tabby cat had surgery for torn ACL tendon at age 13. I began giving her a scoop a day of Pet Health OPC and she made a full recovery and is playing and jumping again like a kitten! An inexpensive way to have a happy healthy cat.
Comments about Pet Health™ PetHealth™ OPC Formula with Glucosamine for Dogs & Cats:
Pet Health OPC-3 is a great product, easy to use and it has really helped my black labs over the years. My previous lab was able to live a couple extra "good" years while battling health issues before old age eventually won but the OPC-3 helped her immensely. My current lab has been on it for 6 years and always gets compliments on how well her coat is. The vet says she's in great health so I will be continuing to use and recommend this product as well as the multi-vitamin product in the pet health line!