Product Information
Combats free radicals
Helps maintain healthy cholesterol levels
Helps maintain healthy circulation
Helps maintain joint flexibility
Helps promote cardiovascular health
Helps support visual health/visual acuity
Powerful free radical scavenger
Supports healthy blood vessel dilation
Supports healthy nitric oxide levels
Supports healthy blood glucose levels
Supports healthy platelet activity
Product Information
PetHealth™ OPC Formula with Glucosamine for Dogs & Cats
PetHealth OPC is a food supplement made from a combination of bilberry, grape seed, red wine, pine bark extracts, citrus extract bioflavonoids, and glucosamine, designed to promote healthy joints and provide a strong antioxidant defense. Oligomeric proanthocyanidins (OPCs) are bioflavonoids (complex organic plant compounds) found in fruits, vegetables and certain tree barks that provide exceptional nutritional benefits to your pet's body. Studies have shown OPCs to be more powerful than vitamin C and vitamin E in neutralizing free radicals. PetHealth OPC Formula with Glucosamine offers a unique, great-tasting powder that is sprinkled over your pet's regular food. It represents the latest technology available today in naturally based pet food supplements. PetHealth OPC Formula is available in a tasty beef flavor that your pets will love – and you'll love knowing that you're doing all you can to help your pets stay health and love long, healthy lives. Pets face many of the same issues as humans. Many pet foods are over processed and have little nutritive value. Dogs and cats breathe in the same pollution as we do, inhaling free radicals. Powerful antioxidants like OPCs help to strengthen your pet's free radical defenses. Antioxidants promote cardiovascular health, support healthy visual acuity, promote healthy blood vessel dilation and promote healthy platelet activity. Your Pets and Joint Health As pets become older, antioxidants become even more important in the fight against free radicals and their associated effects on cells in joints and other tissues. All animals need joint support as they age. Many factors can affect joint health and the integrity of cartilage, including diet, genetic make-up and activity levels. The cold wintery months can also contribute to a decline in joint comfort. Each animal's genetic code, for example, can influence the thickness and durability of its cartilage and its overall joint health. Proper nutrition, especially antioxidant supplementation, is critical in maintaining healthy joints. Glucosamine has been shown to promote the retention and normal regeneration of cartilage, support normal movement and flexibility of joints and promote joint comfort.
*These statements have not been evaluated by the Food and Drug Administration. This product(s) is not intended to diagnose, treat, cure or prevent any disease.
PetHealth OPC Formula for Dogs and Cats with Glucosamine is a supplement designed to promote healthy joints and provide a strong antioxidant defense. Potent antioxidants like OPCs help to strengthen your pet's free radical defenses as well as promote cardiovascular health and support vision health. PetHealth OPC also contains glucosamine that has been shown to promote the retention and normal regeneration of cartilage, support normal movement and flexibility of joints and promote joint comfort. At just $0.23 per serving, no other pet antioxidant supplement provides the benefits of PetHealth OPC Formula for Dogs and Cats with Glucosamine. Other supplements on the market only offer a fraction of the benefits in PetHealth OPC with Glucosamine and can cost up to 16X more per serving. Only the best for your pet. Save Money – PetHealth OPC with Glucosamine.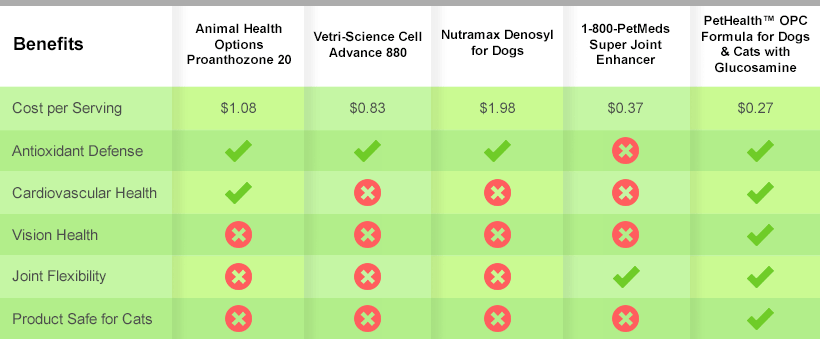 Tasty
by BrianS
Shop Consultant
on 09/16/2015
My boston terrier waits to eat his food until I put his OPC on his food.
Energy For My Dog
by Anonymous
on 08/21/2015
My dog is now running around with energy and her tail is wagging. Wow and wow thank you.
Great stuff
by SharonD
Shop Consultant
on 07/13/2015
This product has allowed all of my animals keep their joint health all the way through advanced age, giving them the opportunity to run and jump for their whole lives.
My 15 year old dog is like a young one again
by SuzanneS
Shop Consultant
on 07/11/2015
In September 2014 my 14 year old dog slipped while running and torn the ligament in her right leg and could not put any weight on it. The vet suggested surgery or try medication. He started her on carprofen which she took for 7 months with no signs of improvement. Last April I heard about this product through a friend and started her on it twice a day. Within four weeks she was walking/running on that leg. I continue to give it to her once a day. She can now outrun any dog, jump on the sofa and run up and down the stairs. When people find out she is 15, they can't believe how active she is. I love this product and so does my dog.
Renewed energy!
by LoriL
Shop Consultant
on 04/25/2015
Gave this product to my 8 and 11 year old cats and within a week or so, noticed they were chasing each other and playing like kittens! Price is minimal - small price to pay to support your pets health.
Ingredients
Grape Seed Extract Grape seed extract helps protect cells from free radicals. Rich in polyphenols, beneficial compounds that have been shown to support normal circulation, grape seed extract can help maintain a healthy circulatory system. Red Wine Extract Red wine extract is a powerful antioxidant. This extract is found in grape vines, roots, seeds and stalks, with the highest concentration in the skins. The antioxidant properties of red wine extract contribute to maintaining healthy circulation by strengthening capillaries, arteries and veins, and promoting overall cardiovascular health. Pine Bark Extract Another strong antioxidant, pine bark extract has been shown to support normal circulation, and the strength of blood vessel walls. Bilberry Extract Bilberry extract is beneficial in promoting strong red blood cells and capillaries, specifically around the eyes and in the retina. Bilberry extract supports the capillaries in the body to help maintain optimal peripheral circulation. Citrus Bioflavonoids Citrus bioflavonoids are natural substances found in fruits and vegetables, nuts, and some tree barks. They counter the effects of free radicals and also support normal respiratory health. There are numerous European studies showing a clear benefit of glucosamine supplements for promoting joint health. Glucosamine may also support chondrocytes (cartilage cells) in the normal production of healthy new cartilage. Glucosamine Glucosamine is a molecule that is naturally synthesized in the body from glucose and the amino acid glutamine. Glucosamine is an important constituent of glycosaminoglycans in cartilage matrix and synovial fluid. As bodies age, they are less able to produce glucosamine, resulting in cartilage that is less flexible and weak. Although the mechanism is currently unclear, studies have shown that glucosamine supplementation can support normal, healthy cartilage cell production to help maintain overall joint health. Optimization by Blending It has been suggested that several antioxidants blended together in moderate amounts may be more effective than high levels of one antioxidant. The blend of antioxidants in PetHealth OPC Formula Powder includes grape seed extract, red wine extract, pine bark extract, bilberry extract and citrus bioflavonoids. These antioxidants contain oligomeric proanthocyanidins, or OPCs. Much the same way antioxidants can help optimize a person's health, they can also be beneficial to our dogs and cats. Antioxidants help fight free radicals. Young animals can benefit tremendously from antioxidants. Antioxidants can help maintain optimum health in your animal's cardiovascular systems, joints and eyes.
FAQ
What are OPCs? OPCs, or oligomeric proanthocyanidins, can help reduce the effects of free radicals, support the strength of blood vessels and support healthy vision. OPCs can also help maintain normal histamine levels. Not limited to being just strong antioxidants, OPCs are also crucial in their role in supporting the circulatory system. What are antioxidants, and why should I give them to my pets? Antioxidants are nutrients that help maintain optimum health by protecting against free radicals. Antioxidants are found in the body as well as in many plants. Even cells that function normally generate large amounts of oxygen free radicals. Free radicals develop as byproducts of physiological processes that occur within the body. This process is largely responsible for the aging process. Certain factors in everyday life encourage an increase in the formation of free radicals. These factors include exercise, pollution and food. We need a ""neutralizer"" in our body to counteract these reactants and a strong and effective antioxidant is the best way to fight free radicals. It is becoming increasingly apparent to veterinarians that antioxidant supplementation could very well provide optimal health support for dogs and cats. Pets could benefit from a ""neutralizer"" operating in their systems that fight free radicals. A strong antioxidant is the best way to fight free radicals. What is a bioflavonoid? Bioflavonoids are complex organic plant compounds. Plants and fruits differ in colors based on the specific bioflavonoids they contain. An increasing number of clinical studies have shown how bioflavonoids support health. Bioflavonoids and OPCs play a key role in supporting cardiovascular health and maintaining vascular integrity. Bioflavonoids have been shown to support healthy circulation and cell vitality. Normal collagen renewal is promoted, which supports firmness of the skin, joint cartilage and connective tissue.
You may also like: