Product Information
Produces great-tasting water

Reduces over 60 commonly occurring contaminants including chlorine, lead, mercury, cysts, chlorination byproducts, volatile organic compounds (VOCs), gasoline additives

Helps maintain healthy pH levels

Features a dual-filter system using a combination of carbon filtration, ion exchange and sub-micron filtration

Enhances mineral balance

Easy installation at a fraction of the cost of bottled water

Eliminates the waste generated from plastic water bottles
Product Information
PureH2O™ Countertop Water Filter
The PureH2O Countertop Water Filter Replacement Cartridges are designed to work exclusively with the PureH2O Countertop Water Filter dual-filter system that installs in seconds, and uses a combination of carbon filtration, ion exchange and sub-micron filtration to produce truly healthy, great-tasting water from your kitchen tap. Using the latest two-stage water filtration technology, the PureH2O Countertop Water Filter Replacement Cartridges filter a wider range of contaminants than other filters. The first cartridge reduces sediment, tiny microscopic particles, and chlorine taste and odor. The second cartridge features a complex ion exchange process that enhances the mineral balance of water while reducing the lead. The PureH2O Countertop Water Filter Replacement Cartridges also helps maintain healthy pH levels.

Many municipal water supplies cannot completely filter out all chemical contaminants. In fact, some chlorine taste and odor stays in after processing and ends up in the tap water you drink. PureH2O Countertop Water Filter Replacement Cartridges virtually eliminate the chlorine taste and bad odors, greatly improving the quality and clarity of your tap water. PureH2O because it's your water!

Product Specifications for PureH2O Countertop Water Filter Replacement Cartridges:
Operating Pressure Range: 0-50 psi

Operating Temperature Range: 40-90 Degrees F

Maximum Flow Rate: 0.5 gpm

Rated Capacity of Filter Cartridge: 500 Gallons/Replacement

IMPORTANT: Do not use the PureH2O Countertop Water Filter Replacement Cartridges where water is microbiologically unsafe or with water of unknown quality.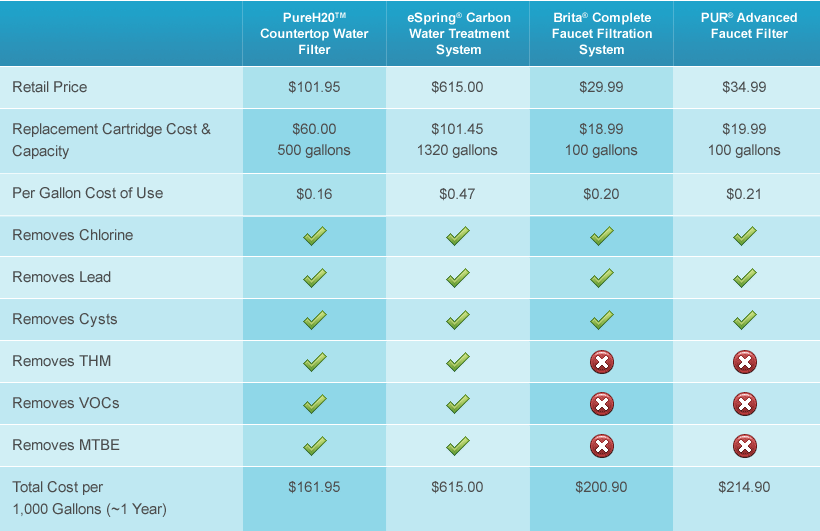 Comments about PureH2O™ Countertop Water Filter:
The PureH2O filter system is amazing! It's highly effective. I did a a chlorine test using between our tap and filtered water and there was no trace of chlorine in the PureH2O filtered water. We use the under the sink installation system which works great. Only suggestion I'll make is the water does come out at a good rate of speed but as the filters hold the sediments the rate at which the water comes out gets very slow (within a month or less). I live in NYC and the city is suppose to have the cleanest water here. This water system is much more affordable and smaller thus why the water comes out slower.
16 Cents A Gallon
Attractive Design
Delicious Water
Durable
Easy To Assemble
Bathroom
Gifts
Kitchen
Living Room
Comments about PureH2O™ Countertop Water Filter:
We love this filter and even give our dogs filtered water now to keep them healthy. Our nephew got engaged and his fiancee is a yoga instructor; she loved the under-counter filter to we gave it to them for their wedding gift. They are remodeling their home so it's the perfect gift for a couple who are serious about maintaining good health.
Comments about PureH2O™ Countertop Water Filter:
easy to install and use, taste is much better than original water.
Comments about PureH2O™ Countertop Water Filter:
Love it ! Water is perfect, no neeed to buy and load bottles ! Easy to install.
Comments about PureH2O™ Countertop Water Filter:
Did Taste test with family and 3 Leading Brands PureH20 won hands down... Also selected as Clearest Apperance. No More lugging Expensive Water Home ! Installed after readin directions in less ten Five Minutes just needed a set of Pliers..
FAQ
Do I have to pay for a plumber to install the system?
Our countertop drinking water filter system is very easy to install, and it only takes a few minutes to do; no plumber is necessary. If you have any questions or need assistance, please contact Product Information at 336-389-6987.

How often do I have to replace the cartridges?
We recommend replacing the cartridges after six months or 500 gallons. Shop.com also offers AutoShip every 6 months on the PureH2O Countertop Water Filter Replacement Cartridges. This ensures you will never forget to change your water filter cartridges and always have PureH2O water.

Is this purified water?
No, and actually, purified water is not as healthy as filtered water. Purified water undergoes reverse osmosis or distillation, which strip everything out of your water - not only the contaminants, but also the healthy, natural minerals. Our system uses selective filtration designed to reduce contaminants from the water and leave in the natural healthy minerals like calcium, potassium, and magnesium.

How do I recycle the replacement filters?
To recycle the PureH2O filter cartridges, remove the ends of the filters, recycle the plastic parts (which are appropriately numbered) and put the carbon either in your compost pile or garden (carbon is good for plant life), or just throw it out (since the carbon degrades quickly, and is a positive component in a landfill).

I'm a renter, so I can't drill or modify the plumbing. Which filter system should I get?
The countertop system is perfect for renters because it does not require a new hole in the counter. To install an under counter system, you can remove the existing sprayer or soap dispenser in your rental and install our faucet in its place. This option will not damage or permanently modify your plumbing. When you move out, you can easily remove the system and reconnect your plumbing back to normal.

What size adapters do you send with the countertop system (for the diverter hose)?
13/16 and 15/16 male.

What size is the chrome collar on the countertop system (on the diverter hose)?
55/64-27 female.

What does TDS stand for, and what is TDS?
Total Dissolved Solids: dissolved minerals and metals. TDS meters tell you the concentration of dissolved minerals and metals in your water, but are not an accurate measurement for contamination. The PureH2O Countertop Water Filter reduces harmful TDS, like dissolved lead and iron, but since our selective filtration leaves in calcium, magnesium and potassium, and minerals are dissolved solids, there will still be a measurable amount of TDS in our filtered water.

What is BPA? And why are people concerned about it?
BPA stands for Bisphenol-A, a contaminant found in most plastics. BPA can adversely affect your health if consumed at high levels. PureH2O Countertop Water Filter does not contain BPA, and our filtration process reduces existing BPA.

Does having hard water mean it is contaminated?
Hard water is more of a nuisance than a health risk, and is not necessarily contaminated. Most water sources in the USA are considered hard. Hard water is generally safe to drink, after it has been properly treated.

What is soft water, and is it safe to drink?
Having soft water just means you have a lower concentration of dissolved minerals in the water (primarily calcium and magnesium). Soft water does not mean clean water. Your water can be soft and still contain contaminants.

What is selective filtration and how does the PureH2O Countertop Water Filter System filter drinking water?
Selective filtration is the process of sub-micron filtration, micron filtration, adsorption and ion exchange, all of which selectively reduces chemicals, heavy particulates and most dangerous heavy metals from the water while maintaining healthy minerals like calcium, magnesium and potassium.

How do I know if the PureH2O Countertop Water Filter will be compatible with my faucet?
The PureH2O Countertop Water Filter will not be compatible with are the 2-in-1 faucets that have a detachable sprayer at the faucet opening. It will fit most standard faucets and also comes with two adapters.
You may also like: