Product Information
One bottle replaces up to 12 bottles of the leading degreaser

Highly concentrated, versatile, commercial-grade cleaner

Excellent for steam cleaning carpet, removing grease, oil and rust

Cleans windows, screens, tile and grout, Formica® and painted surfaces

Perfect for grills, stoves, ovens, and pots and pans

Safe for septic systems
Product Information
Snap™ Heavy Duty Concentrate
Fight grease, oil, rust and tough stains with Snap Heavy-Duty Concentrate. This powerful, all-purpose cleaner is designed for industrial use, but it is also perfect for the toughest cleaning jobs throughout your home. Use in place of standard, single-use household cleaners to clean everything from grills to windows. One bottle of Snap has as much cleaning power as 12 whole bottles of leading de-greasing cleaners. Save money by choosing Snap Heavy-Duty Concentrate rather than investing in multiple cleaners for specific surfaces in your home.
Use Snap Heavy-Duty Concentrate to clean almost any surface in your home or garage. Dilute it to make a carpet cleaning solution that removes tough stains and grease spots as well as an industrial carpet cleaner. At various dilution ratios, it also makes a great wax stripper and glue remover. Snap Heavy-Duty Concentrate is also an ideal bathroom tile, grout and formica cleaner, and it is a smart choice for your stove, grill, oven, pots and pans. When it comes time to clean your plastic outdoor furniture or power wash your awnings, just check the label for the proper dilution ratio, and prepare a mixture of Snap and water to tackle the job.
*These statements have not been evaluated by the Food and Drug Administration. This product(s) is not intended to diagnose, treat, cure or prevent any disease.
Snap Heavy-Duty Concentrate is a highly concentrated, versatile, commercial-grade cleaner perfect for everyday use. Snap Heavy-Duty is excellent for steam-cleaning carpets, and removing grease, oil and rust. One bottle of Snap Heavy-Duty Concentrate can replace up to 12 bottles of the leading degreaser, over a $49 savings.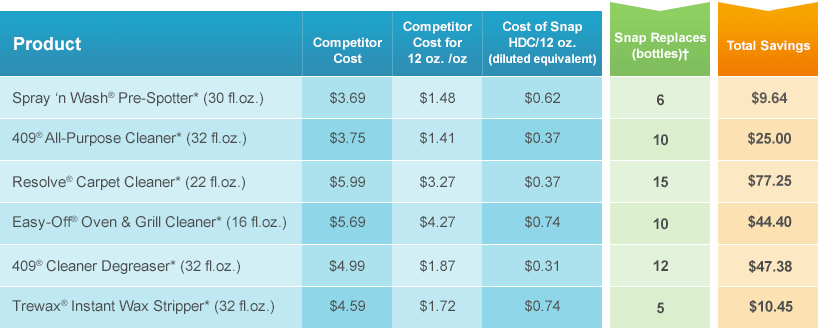 Kitchen, Bath, even the Car!
by Anonymous
on 10/27/2015
I love all the SNAP products, but "Snap Blue" is my fav'. I even use as my window washing fluid in my car and love it!
No nasty fumes!
by Anonymous
on 09/02/2015
I love this and the other natural cleaning products offered by Snap! They really clean and I am not harming myself, my family, or the environment with harsh chemicals. I highly recommend these products.
Removed gear grease from carpet like a charm!
by DanaL
on 04/18/2015
I had a small sample of this product from my salesman and I added it to my carpet scrubber to remove gear grease that someone tracked in from my garage....I cannot believe how great this cleaned the spots! It looks like it was never there in the first place. Would highly recommend to anyone for tough grease spots!
Love, Love, Love this product!
by AlydaK
Shop Consultant
on 09/22/2014
I have used this product on the siding of my house, on the deck and I also use it to clean the shower. This is just a fantastic product that truly makes cleaning a SNAP! While I was cleaning the siding of my house I was in awe how easily all the dirt came off. This product is an absolute 'must have'!
TOO Good not to use!
by MeowW
Shop Consultant
on 09/18/2014
Used it to clean the dirt built up in 16 years under the oven.With some elbow grease the spot is as good as new within 10 min. Other pluses, the product is environmental friendly & it goes a long way !
FAQ
Where can I use Snap Heavy-Duty Concentrate?
Snap Heavy-Duty Concentrate's formula provides a wide variety of uses for the product.

Grills, stoves, ovens, pots and pans

Removes grease, oil and rust from carpet

Steam cleaning carpets

Steam cleaning walls and woodwork

Windows and screens

Bathroom tile, grout and Formica

®

Laundry prewash

Spot and stain remover

Vinyl, leather and tires

Wax stripper

Glue remover

Outdoor plastic furniture

Removes grease, oil and grime from driveways, garage floors

Use in power washer for awning, siding and decks

Engines
What is the dilution ratio for Snap Heavy-Duty Concentrate?
The dilution ratio for Snap Heavy-Duty Concentrate varies, depending on the specific use. Please refer to the label for specific dilution ratios.
You may also like: