Product Information
Triple enzyme stain-fighting power lifts oil, starch and protein-based stains

Odor-neutralizing formula

New fresh scent

For use in front- and top-loading washers

Cleans in all water temperatures

One bottle does up to 40 large loads, 60 medium loads and 80 high efficiency loads of laundry

Economical

Increased whitening and color brightening power

3x concentrated

High Efficiency (HE) friendly

Environmentally friendly*
*Snap Triple Enzyme 3X Laundry Detergent is made with phosphate-free, nontoxic, biodegradable, plant–based ingredients and bottled in recyclable plastic.
Product Information
Snap™ Triple Enzyme 3X Laundry Detergent
Clean the toughest stains while being gentle on your clothing with Snap Triple Enzyme 3X Laundry Detergent. Three times more powerful than standard detergents, Snap laundry detergent removes layers of grime with innovative enzyme cleansing technology. The special formula fights odors and leaves clothes with a fresh, light scent. Despite being more powerful, one bottle of Snap cleans twice as many loads as the leading brands of laundry detergent and costs less per load. Snap cleans at all temperatures and in high-efficiency washers for reliable results that complement green lifestyles.
Wash away your most common household stains with enzyme power. This formula contains three enzyme compounds to break down oil-based stains such as grease, carbohydrate stains, such as ketchup, and protein-based stains, such as blood. The enzyme detergent is also effective on grass and shirt collars. Even a small amount of Snap detergent helps to whiten whites and brighten colors. Snap is a phosphate-free, eco-friendly laundry detergent, relying instead on biodegradable, plant-based surfactants and essential oils for safe, non-toxic cleaning power.
Snap Triple Enzyme 3X Laundry Detergent is three times more powerful than standard detergents, providing maximum cleaning power to fight the toughest stains and odors. One 40-ounce bottle of Snap Triple Enzyme 3X Laundry Detergent will do more than twice as many loads as the leading 50-ounce bottle of HE laundry detergent when used in a HE washing machine. It could save you as much as half the cost per load as compared to the leading HE laundry detergent.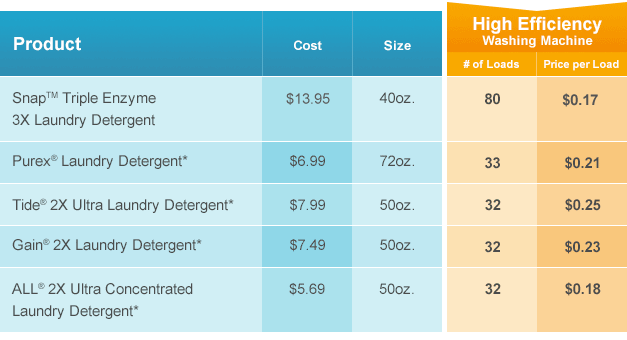 many uses
by Anonymous
on 06/29/2015
I have used this product for so many things from; laundry soap, pre treat soak (for heavy gear oil and diesel stains), baby stains in cloth diapers, and I make a carpet cleaner with this as a part of the mix along with other snap cleaners. I am very pleased with this product. It works hard and makes my work look great.
Baby clothes? Oh yes!
by LisaS
Shop Consultant
on 06/08/2015
This is a mild but super powerful detergent. Pour a small amount directly on stains and throw your garment in the washer. It gets out everything your baby throws at it and it doesn't hurt sensitive skin. I've used both this and the Free & Clear. They're both great. They're kind to the environment as well.
Strongly recommend
by Xiao-OuL
Shop Consultant
on 09/23/2014
Great laundry detergent for sensitive skin people.
I would buy this product again an again
by LORAN
Shop Consultant
on 07/24/2014
The small container is easy to store, the price is awesome, the product in comparison is better than anything I have ever used!
Little jug lots of clean!
by LAURENB
Shop Consultant
on 04/05/2014
This is a great little bottle with lots of cleaning power! Beats the laundry detergent at the stores and at a fraction of the weight and cost. Plus eco friendly? Can't get better than that!
Ingredients
Cleaning agents (anionic, nonionic, plant based surfactants), water, quality control agents, alpha- amylase, lipase, protease, sudsing stabilizing agents, fragrance and FD&C color.
Snap Triple Enzyme 3X Laundry Detergent is phosphate-free, biodegradable, non-toxic, safe for septic systems and made with plant-based ingredients and essential oils.
FAQ
What are enzymes?
Enzymes are proteins that are synthesized by every living plant and animal cell. They act as catalysts, or biological accelerators, to speed up bio-chemical reactions. Enzymes can complete chemical reactions without being used up, which means the enzymes can act on another molecule and create another reaction. Eventually, the enzyme substrate is gone and the enzyme stops working.

How do enzymes help clean my laundry?
Enzymes used in laundry detergents act on stains, soils and odors so that these materials can be washed away more easily. These enzymes are named after the materials they can help remove. Lipases break down lipid (fat) based stains like grease, salad dressings, cooking oils and lipstick. Amylases break down starches and other carbohydrate-based stains, and proteases break down protein based stains like blood or egg. These enzymes will even remove tough collar stains or grass stains. Because one enzyme molecule can work multiple times, small amounts of enzyme in laundry detergent can increase the cleaning power, and improve whitening and cleanliness, providing a big cleaning benefit to user.

Are enzymes safe?
Enzymes are proteins and are all-natural, environmentally friendly, biodegradable and non-toxic. They do not pose a safety issue when used in laundry detergents or cleaning solutions.
You may also like: