Product Information
Product Information
nutraMetrix® Transitions™ Thermochrome with Advantra Z and South African Hoodia gordonii
While there are other thermogenic supplements for weight loss on the market, TLS Thermochrome with Advantra Z combines a great weight loss formula you need with a cost-effective price you want.
Thermogenesis is the production of body heat generated from the burning of consumed and stored fat. TLS Thermochrome is a unique proprietary formulation combining lipolysis and thermogenesis to support increased energy levels and weight loss.
TLS Thermochrome isn't like other energy boosting supplements or fat burning pills on the market; the unique formula helps eliminate stored fat and may help suppress appetite. Since calorie restriction often triggers the metabolism to slow down and reserve as many calories as possible, TLS Thermochrome's effective formula helps the body increase the burning of body fat for fuel.
Thermochrome, like all TLS supplements for weight loss, uses only the highest quality ingredients, including green tea extract, guarana seed, chromium and Advantra Z -arguably the best thermogenic ingredient for weight loss and peak physical performance on the market today.
*These statements have not been evaluated by the Food and Drug Administration. This product(s) is not intended to diagnose, treat, cure or prevent any disease.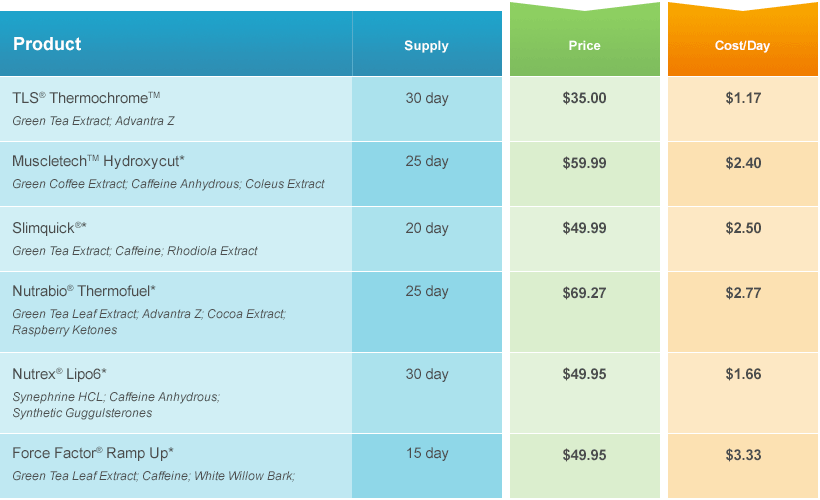 Love it
by AnnieR
on 10/08/2015
Ive had good outcome with this product. I have lost over 130lbs on my own and needed a little boost to lose the last 25-30. So far so good- I highly recommend!
Are you kidding!
by dwaynes
Shop Consultant
on 09/23/2014
Im seeing results every week, and you can feel the energy almost immediately during workouts!
Not Satisfied
by SandraT
on 08/07/2014
Did not find product effective at all.
Fat Burner that didn't make me puke.
by KristiM
on 09/11/2013
This is The ONLY fat burner that I have tried, and I've tried a lot, that didn't make me nauseated and want to puke. Plus it works! Def. recommend!
by SueD
on 07/11/2012
I do like this product
Science
Scientific Support for Thermochrome with Advantra Z® and South African Hoodia gordonii:
· Carr A, Frei B. Does vitamin C act as a pro-oxidant under physiological conditions? FASEBJ. 1999; 13:1007-1024. · Anon Dietary Reference Intakes for Vitamin C, Vitamin E, Selenium, and Carotenoids. Washington , D.C. : National Academy Press; 2000. · Enstrom JE, Kanim LE, Klein MA. Vitamin C intake and mortality among a sample of the United States population. Epidemiology. 1992; 3:194-202. · Jacob RA. Vitamin C In: Shils ME, Olson JA, Shike M, Ross AC, eds. Modern Nutrition in Health and Disease. 9th ed. Baltimore , MD : William and Wilkins; 1999:467-483. · Pauling L. Evolution and the need for ascorbic acid. Proc Natl Acad SciUSA. 1970; 67:1643-1648. · Bender DA. Non-nutritional uses of vitamin B6. Br J Nutr. 1999 Jan;81(1):7-20. · Bonke D. Influence of vitamin B1, B6, and B12 on the control of fine motoric movements. Bibl Nutr Dieta. 1986;(38):104-9. · Bernstein AL. Vitamin B6 in clinical neurology. Ann NY Acad Sci. 1990; 585:250-260. · Dakshinamurti, K, ed. Vitamin B6. New York , NY : The New York Academy of Sciences; 1990. · Dietary Reference Intakes for Thiamin, Riboflavin, Niacin, Vitamin B6, Folate, Vitamin B12, Pantothenic Acid, Biotin, and Choline. Washington , DC : National Academy Press; 1998. · Kapp A, Zeak-Kapp G. Effect of Ca-pantothenate on human granulocyte oxidative metabolism. Allerg Immunol (Leipz). 1991; 37:145-150. · Litoff D, Scherzer H, Harrison J. Effects of pantothenic acid supplementation on human exercise. Med Sci Sports Exercise. 1985; 17:287(Abstract 17). · Nice C, Reeves AG, Brinck-Johnsen T, Noll W. The effects of pantothenic acid on human exercise capacity. J Sports Med. 1984; 24:26-29. · Plesofsky-Vig N. Pantothenic acid. In: Shils , ME , Olson JA, Shike M, Ross AC, eds. Modern Nutrition in Health and Disease. 9th ed. Baltimore MD : Williams and Wilkins; 1999:423-432. · Webster MJ. Physiological and performance responses to supplementation with thiamin and pantothenic acid derivatives. Eur J Appl Physiol. 1998; 77:486-491. · Dietary Reference Intakes for Calcium, Phosphorous, Magnesium, Vitamin D, and Fluoride. Washington , DC : National Academy Press; 1997. · Gullestad L, Dolva LO, Soyland E, et al. Oral magnesium supplementation improves metabolic variables and muscle strength in alcoholics. Alcohol Clin Exp Res. 1992; 16:986-990. · Terblanche S, Noakes TD, Dennis SC, et al. Failure of magnesium supplementation to influence marathon running performance or recovery in magnesium-replete subjects. Int J Sports Nutr. 1992; 2:154-164. · Anderson RA. Effects of chromium on body composition and weight loss. Nutr Rev. 1998; 56:266-270. · Kaats GR, Blum K, Fisher JA, Adelman JA. Effects of chromium picolinate supplementation on body composition: a randomized, double-masked, placebo-controlled study. Curr Therap Res. 1996; 57:747-756. · L'Allemain G. [Multiple actions of EGCG, the main component of green tea]. [Article in French]. Bull Cancer. 1999; 86:721-724 · Jankun J, Selman SH, Swiercz R, Skrzypczak-Jankun E. Why drinking green tea could prevent cancer. Nature. 1997; 387:561.
FAQ
Frequently Asked Questions about Thermochrome with Advantra Z® and
South African Hoodia gordonii (FAQs): How do I know if I am overweight? One way to determine whether or not you are overweight or obese is to take a Body Mass Index test. This test is available on various websites online, and it displays the relationship between your weight and height and provides you with your personal BMI. You can also consult your physician. With this information, you can determine what steps you need to take to achieve your optimal weight. How can being overweight adversely affect my health? Being overweight may soon overtake smoking as the leading cause of preventable deaths in the United States , according to the U.S. Surgeon General. There is an estimated 97 million Americans that are classified as being overweight or obese. Each year, an estimated 300,000 people die prematurely due to being overweight; only smoking-related deaths are higher. Obesity takes many lives, even though it is a highly preventable form of disease. How can you reduce your weight and stay at an optimal weight? There are three major ways to effectively reduce your weight: Begin an exercise program, adjust your lifestyle and watch your diet. What steps do I need to take to adjust my lifestyle? The first step to adjusting your lifestyle is to develop a dietary plan that works for you as an individual. To incorporate exercise in your life, you should choose activities that you find enjoyable and exercise for at least 20 to 30 minutes at least three times a week. Also, set reasonable goals, and give yourself rewards when you achieve them. What is an example of a diet to follow? When choosing a diet, try to avoid hard-to-follow fad diets. A good plan is to avoid eating late at night. Eat healthy, small, frequent meals that include raw fruits and vegetables during the day. It is good to reduce your fat intake to less than 30 percent of your total calories and get at least 25-35 grams of fiber per day. Also, you should try to drink eight to 10 glasses of water daily. You can use dietary supplements to help maximize your body's metabolism, and make sure that your caloric intake is less than your caloric expenditure. Even small differences in the calories you intake and expend can lead to weight loss. Decreasing your caloric intake just 100 calories a day can result in a 10-pound weight loss in one year without even exercising. A low glycemic diet, such as Transitions Lifestyle System®, which incorporates nutrition, exercise, supplements and a healthy lifestyle is ideal for optimal weight loss.* Is it harmful to be a yo-yo dieter? Yes, it is harmful because it sends your body into defense mode. Defense mode slows the body's basal metabolic rate to stop your body from starving. When you have a slower than normal basal metabolic rate, it becomes much harder to lose weight. The key is to have a consistent lifestyle that incorporates nutrition with supplements and exercise, such as Transitions Lifestyle System.* Is it harmful to use appetite suppressants? Appetite suppressants are designed for individuals that have easily triggered appetites. Individuals who eat when they smell food, get bored or are emotional eaters benefit the most from appetite suppressants. Appetite suppressants will prevent you from getting hungry at inappropriate times of the day and will assist you in your weight loss efforts by preventing some of the mindless or excessive eating that may be preventing you from reaching your weight loss goals. What is Hoodia gordonii? Hoodia gordonii looks like a cactus but is actually a succulent from the Kalahari Desert in South Africa . People from the area have been using hoodia for centuries to help with hunger. Hoodia works by tricking your brain into thinking you have eaten, making you feel full. How long will it take for Hoodia gordonii to work? Hoodia may work right away or it may take a few weeks to have an effect on your appetite. How do I know this is real Hoodia? Market America has the Certification of Analysis, as well as the complete chromatography, for every batch of Hoodia used to manufacture our supplement. The Certification of Analysis ensures that the product is actual Hoodia gordonii from South Africa and the chromatography ensures that the plant material has not been stripped of any of its properties and contains all plant constituents. If I have high blood pressure, can I take this product? No. You should not take this product if you have high blood pressure. Can I take this with other Transitions™ products? Yes. You can take this with the other Transitions products. What if I feel jittery? What do I do? If you feel jittery, you can cut back to a half serving until you become accustomed to the product. You can also take the product with food and make sure to avoid any other sources of caffeine to reduce any jittery feeling. Will I feel jittery? If you are used to drinking coffee or drinks with caffeine, then you should not feel jittery. If you are sensitive to caffeine, you should probably start this product at a half serving and see how you feel. If I am sensitive to caffeine can I take this? Yes. You can still take this product if you are sensitive to caffeine. You may not be able to take more than a half serving until your body gets accustomed to the product. You can also take a half serving just once a day if you need to cut back on the caffeine more dramatically. Are there any contraindications or warnings I should be aware of when taking Thermochrome? Do not exceed the recommended serving size. If you are currently taking monoamine oxidase inhibitors (MAOIs), you should not take this product. If you have high blood pressure, cardiovascular problems, diabetes, hypertension (Graves Disease) or liver disease, you should not take this product. If you are taking any other prescription medication or have an ongoing medical condition, you should consult your physician before using this product. Women who are pregnant or nursing should not use this product. Keep out of reach of children.
You may also like: