4.8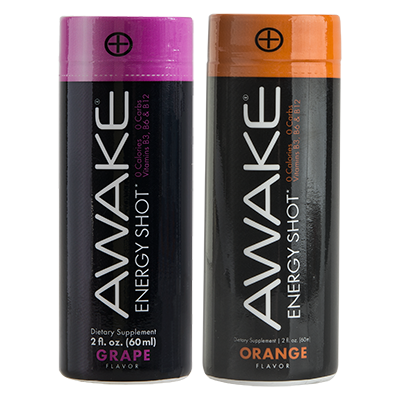 Give your body the boost it needs
Want something to kickstart you in the morning? Need help staying sharp during the day? Don't hit the wall. Awake Energy Shots give your body the boost it needs when you can't afford a letdown. Awake Energy Shots help keep you alert, energized and focused throughout the day, formulated with caffeine, B vitamins, amino acids and other nutrients to provide the long-lasting physical and mental energy you demand.
Awake® Energy Shot $29.95
Earn
Cashback
200 milligrams of caffeine
May help promote alertness
Zero calories, zero sugars
B Vitamins are essential for many key functions in the body
Shift workers love AWAKE
"How fantastic to have a "healthy" energy drink. Loaded with B vitamins, Amino Acids, and of course a dose of Caffeine; this little bottle gets me through the night when I'm put on 3rd shift. I love them both and get a case of each so I have it on hand as needed."

by Chele B.
Awake® Energy Shot - Orange Flavor
Awake® Energy Shot - Grape Flavor
*These statements have not been evaluated by the Food and Drug Administration. This product(s) is not intended to diagnose, treat, cure or prevent any disease.