Available Exclusively on SHOP.COM!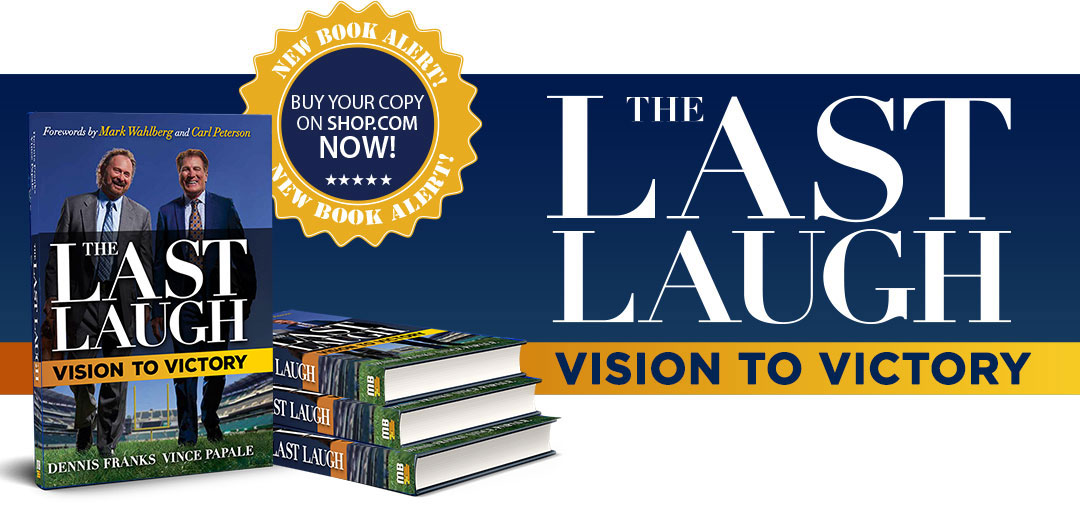 Inspirational Against-All-Odds Story
By: Dennis Franks & Vince Papale
---
The book's title is inspired by a photo, titled The Last Laugh.
The photo was taken after a successful game that helped reverse the Philadelphia Eagles losing streak and paved their way to the Super Bowl XV. It now hangs in the Pro Football Hall of Fame in Canton, Ohio. It depicts, not only the emotion felt, after a winning game, but the joy that comes from any accomplishment against the odds, in the face of naysayers and doubters.
The Last Laugh: Vision to Victory is part memoir and part success guide. Former NFL players, turned entrepreneurs, Dennis and Vince, share lessons learned and obstacles conquered during their years in the NFL, and how they applied those lessons to their respective business career after they hung up their helmets.
After retiring from the NFL, Vince launched the Invincible brand after the release of Invincible, the Disney movie and book depicting his NFL career. Vince is now among the nation's top motivational speakers.
Dennis' pursuits include his rise through the ranks of direct selling as one of the top money earners in the industry. Dennis now owns, in partnership with others, a multibillion-dollar internet marketing company, Market America | SHOP.COM. He travels internationally to train a sales force of 200,000 distributors.
The Victors Code
Describes behaviors and ethics that have undergirded every success.
The code, in brief, includes:
Visionthe state of being able to see.
VehemenceShowing great energy or passion.
VitalityLiving a healthy lifestyle.
ValorExceptional courage and determination.
VeracityThe habit of speaking the truth.
VigorThe ability to thrive and survive in the face of obstacles.
VictoryThe accomplishment of an aim of purpose.
Several well-known luminaries weigh in on how the Victors codes and our story has impacted their journeys. Among them are:
Mark WahlbergAcademy Award nominated actor and entrepreneur
JR RidingerFounder of Market America Inc., Business visionary, entrepreneur
Carl PetersonFormer president and General Manager of the Kansas City Chiefs
Pat CroceFormer President of Philadelphia 76ers, author of Lead or Get Off the Pot!: The Seven Secrets of a Self-Made Leader
Bo EasonPlaywright of Runt of the Litter, former San Francisco 49ers defensive back
Cosmo DeNicolaSerial entrepreneur and humanitarian
Jim HarbaughFormer NFL Quarterback, Head Coach of Michigan Wolverines
Mariel HemingwayOscar-nominated actress, author, and activist
Helie LeeAuthor of Still Life with Rice, documentarian of Macho Like Me, activist
Colonel Tom ManionGold Star father, author, founder of Travis Manion Foundation
Heather Mitt FeeleyGold-medal Olympian in Soccer, TV analyst, host of Soccer Superstar
Ken MokProducer and director of America's Next Top Model, founder of 10x10Entertainment
Brian RutenbergAward-winning painter, author of Clear Seeing Place
Dick VermeilFormer Head Coach of the Philadelphia Eagles, analyst, entrepreneur